Approx: born January 8, 2022 Male Weight: Kg5 (adult weight estimated to be 12-20kg)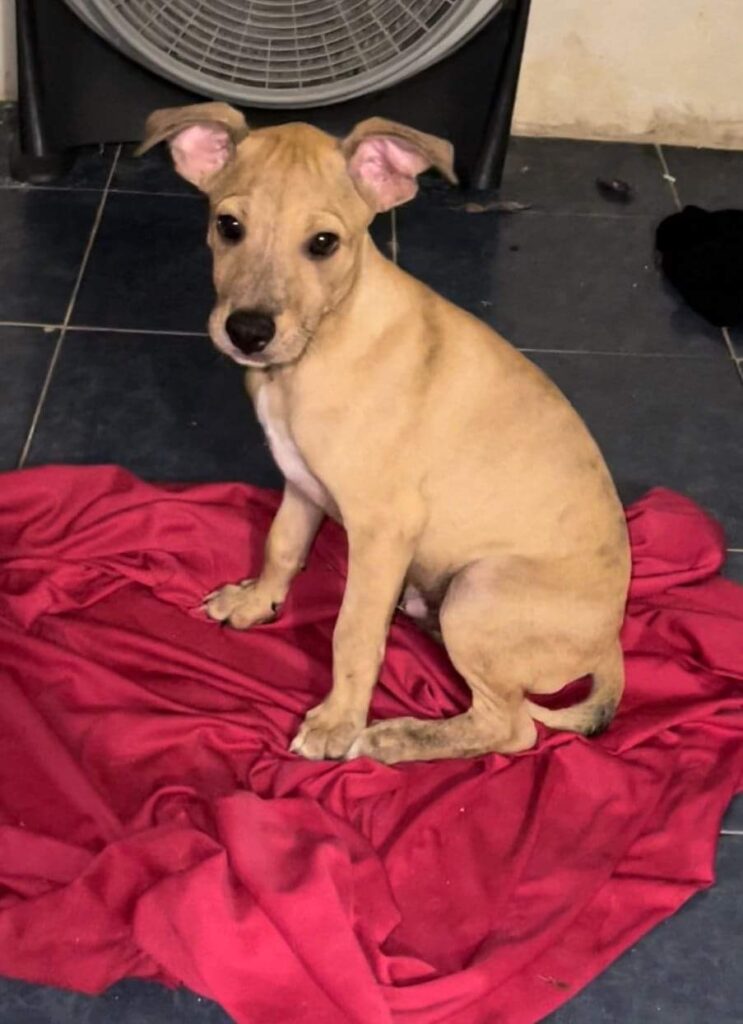 Behaviors/Temperament: Affectionate, sweet, curious, full of beans Energy: Puppy
2 Children Friends: yes Dog Friends: yes Cat friends: yes loves cats Resource guarding: no
Bark/noisy: no Housebroken: In progress Shedder: Low Crate trained: No Leash etiquette: Yes Good in car: Yes
Rescue Story :
Guapo's mom was a street dog . She was rescued while pregnant as part of the
"Padrinos Dejando Huellas" support program which spared her from having to give birth
in the street. Mom is a small dog, at 10.8kg, but we do not know the father. Guapo was
the second largest puppy in the litter and we guess he will grow larger than his mom but
still be small at under 20kg. As he was cared for since birth, he has not been exposed to many of the hazards of the street, including ticks, fleas, heart worm or TVT. He has not had any health issues, has a good appetite and likes a wide variety of food. He is not a fussy dog.
Foster assessment
Guapo is a typical, playful puppy and is the happiest puppy in his litter. His tail is
always wagging even when he sleeps (he even wagged his tail when he was
under anesthetic getting neutered haha!) He loves every human, animal, rock
and speck of dirt he finds in his path. He is on the shy and submissive end of the spectrum and although he has his puppy moments, he listens well and responds extremely well to correction. He wants to please and only needs to understand what to do. Like all healthy puppies, Guapo is a ball of energy and likes to put everything he
finds into his mouth. It is impossible to be upset with Guapo as he is the
sweetest, most innocent, most earnest being. He will reward you for cuddling
him with millions of kisses as well as chomping on your earlobe. He will them
immediately give you the cutest apologetic look so that you will laugh and kiss his
nose and then the next day you will let him chomp on your earlobe again.
As he loves everything and everyone, and needs confidence, a home with other
dogs and cats would be perfect for him.