Available for adoption Lower Mainland/Okanagan/Sunshine Coast/Island
Best Mix: mixed , Approx. age: 1 year and half, Male, Weight: Kg 16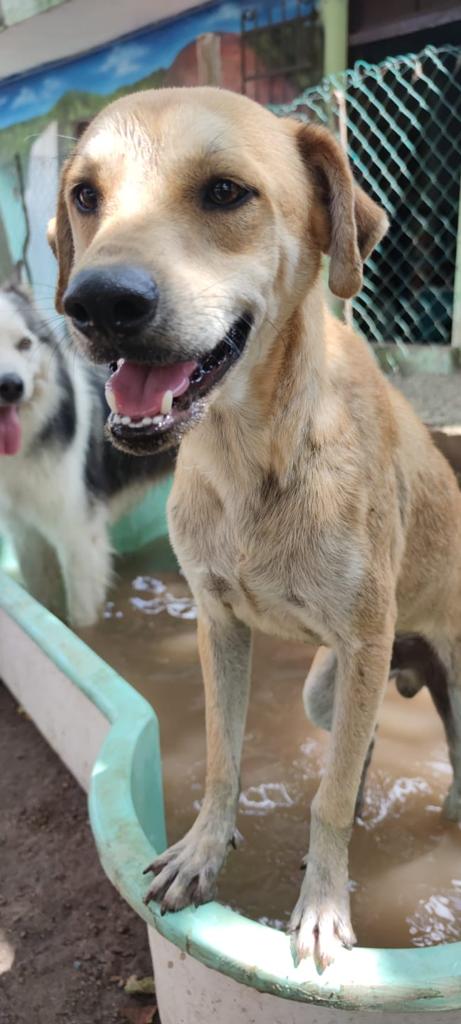 Temperament: Bruno is a sweetheart, beautiful outside and inside. He has a stunning coat, all recover form his injuries and he loves to play, loves to swim and play in the water, and make friends. Bruno is young and strong, he enjoys rolling on the ground, playing with sticks and balls. He is really funny, and very sociable with people and dogs.
In the "Dog Paradise" day care/hotel, Bruno is very good and noble.
Energy: médium /high, Children Friends: yes, Dog Friends: yes He love to play
Cat friends: Unknown, Resource guarding: Unknown Bark/noisy: Sometimes, when alone and wants attention. Housebroken: No Shedder: yes, seasonly Crate trained: Yes
Leash etiquette: Learning, Good in car: Yes
Rescue Story : Found him abandoned in the jungle with a horrible skin problem. Locals, in attempt to help, poured burnt oil on him, making the contrition worse, and the skin to become injured, with open sores, that bled from his neck and back. He was very underweight, very weak, barely able to stand up when he was found. I took him to the vet, not even knowing he was going to make it, but fortunately he started to recover little by little, until a moth after he was good enough to move to the shelter.
Foster assessment: Bruno lives in the "Dog Paradise" day care/hotel, he has been living there for a month and a half, he is very good dog and sociable. He can cohabits with other dogs without problems. His skin has recovered completely, he is back on a normal weight, and he is happy and healthy, waiting for a loving-forever home.